About Mary Kay Waddington
After graduating from the Oberlin Conservatory of Music with a degree in harp performance in the 70's, Mary Kay was looking for a new, more ear-oriented way of teaching. That's when she discovered the Suzuki method and knew it was just what was needed for young harp students.  After studying with many fine Suzuki Piano teachers in the U.S. and for several months in Japan with Dr. Suzuki, she authored the Suzuki Harp Method which is now widely used by teachers and students throughout the world.  Much of her time is dedicated to training teachers on how to use this approach.
Her students (along with other Suzuki harp students from the U.S.) Have performed in several different countries and have been featured at different World Harp Congress events, Suzuki Pan Pacific conferences, Suzuki Association of the Americas conferences, and the Lyon & Healy Harp company's 150th anniversary celebration.
Not content with the normal presentation of classical music (performer on stage, audience sitting quietly in seats trying to stay awake, applauding politely at the end), her students' performances have included dancers, singers, costumes, totem poles, butterfly kites, a 25′ caterpillar, flying goldfish, chanting monks, flying gargoyles, a lighted centipede climbing up a harp, an alligator eating someone's shoes, tango dancers – you get the idea!  They're fun and full of surprises and audience participation.
But the exciting, creative presentations only happen after years of exacting technical and musical work.  Mary Kay is well-known for her teaching of musicality, and getting her students to push the boundaries of musical interpretation.
Music Reading Materials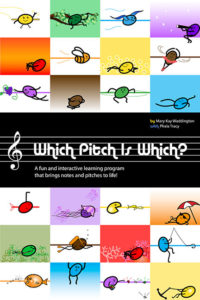 Throughout her years of teaching, Mary Kay discovered that, just like learning to read words, some students learned to read music easily while others struggled.  The Suzuki method believes that every child can learn to play an instrument and learn to play it well if it is taught by a well-trained teacher and parallels how the child learns his/her own language – something every child learns to do easily!  So she felt there should also be a way for every child to learn to read music easily and successfully.
That belief was the beginning of "Which Pitch is Which?" and "You've Got Rhythm!"  Through animation, songs, and computer-interactive practices, students are being exposed to the concepts from many different angles:  visual, auditory, kinesthetic, as well as the intellectual way music reading is often taught.   Each new concept is introduced with an animated story, followed by one or more "Practices".  The concepts build on each other in a logical progression, making it easy to understand and progress from one step to the next. And there's just enough humor included to create some smiles and laughter!
After the animated stories and practices, come the "Which Pitch? Reader" and "Rhythm Reader" for actual practice reading pitches and rhythms at the student's instrument.  The "Which Pitch? Reader" includes audio CD's of duets for every piece – invaluable for following a pulse, and laying the foundation for future orchestra and chamber music work. The "Rhythm Reader" includes four parts for each exercise  that can be played at the same time by different students.  This creates a flexible way to study them: alone, with others in a group, or with a teacher or parent
The students who struggled with reading were the inspiration for these materials.  Every time a problem with reading surfaced, it was analyzed and many approaches tried until one worked.  And each of these solutions from each student was incorporated into the materials.  All of Mary Kay's students were with her every step of the way – trying out each new story and practice, demonstrating what worked and what didn't, pointing out errors, making her rethink different ways of presenting the material.  Much of the success of these products is due to the students' role as Pitch and Rhythm guinea pigs!  And a great deal of thanks goes to Phala Tracy who wrote most of the fabulous "pitch jingles" in "Which Pitch is Which?"
Adults and children alike have found these reading materials to be an exciting (and painless!) way to learn about pitch and rhythm, and to start on their adventure towards music reading proficiency.
Enjoy the journey!
What Others Say
"Your student tells a story with every note she plays.  She has the entire audience on the edge of our seats waiting to hear what will happen next!"
Audience Member
"Mary Kay has an unparalleled ability to teach musicality, allowing the student to bring repertoire to life with innovative interpretation that always engages the audience."
Dr. Nicole Brady
"Most teachers are quite good at talking; few know how to listen. When my 13-year-old daughter had her notes learned for the Debussy Reverie, Mary Kay said, 'So, Bailey, what is your story for this piece?' This wasn't a new question for Bailey because, with Mary Kay, nearly every piece has a story, but it was a bit of a problematic one. The Reverie sounds like the first inklings of spring, or a romantic stroll by a glassy lake, or a garden of dancing fairies, but Bailey gravitates more toward chemistry, astronomy, physics and sports. So when Bailey immediately replied, 'I think this piece is about football,' I held my breath, but Mary Kay didn't miss a beat. 'Okay. Tell me about that,' she said, and then she listened. And listened. And listened a little more. Mary Kay asked questions, listened intently, and began to piece together the images in my daughter's head, and then they started to work. An hour later that odd collection of scattered notes had evolved and matured to beautifully express each play of a triumphant offensive drive to the endzone from the perspective of the stadium grass. That afternoon, Mary Kay taught much more than musical expression. She showed both my daughter and me how to value who you are, how to trust your instincts, how to think for yourself and how to be your own wonderful person."
Melissa Jorgensen