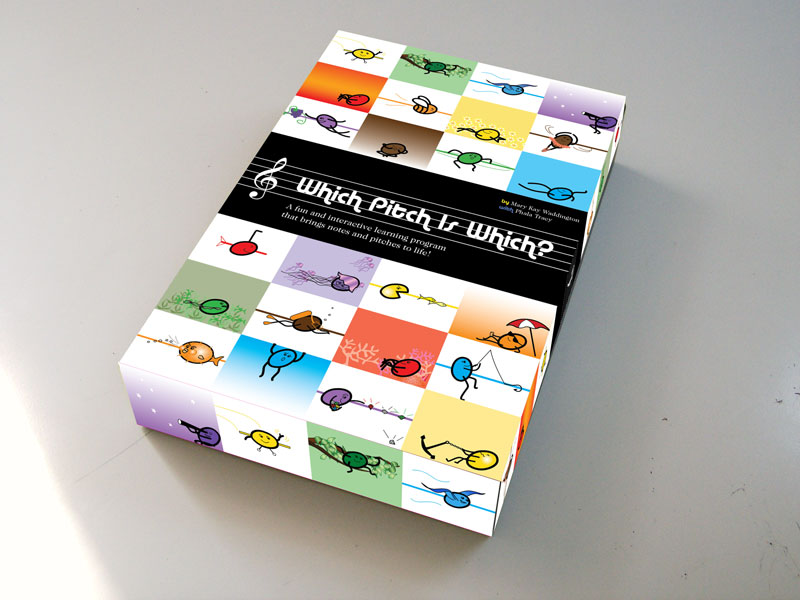 Animated notes take a journey through both treble and bass clefs, discovering and singing about each pitch. The interactive CD-ROM includes ways to visually recognize the pitches.
Several sets of flashcards are included: those with the pictures and songs, those with just colored notes, and finally, those with black notes. The range is from one ledger line below to one ledger line above each clef (no sharps or flats).
Useful for any instrument using treble or bass clef! Those students playing harp or piano will get extra benefit because the notes travel from their place on the staff to their own string or key. And there are more interactive files to practice going from the staff to the instrument and back again.
All ages from preschool to adult will find this an easy, exciting way to learn to read pitches.
Available from the following providers:
I love this program!!  I am a violin teacher and have enjoyed using this program with my young daughters, as well as some of my students. The animation is so clever and my girls love how interactive the program is.
Jill Foley
"Which Pitch is Which?" is terrific! I just bought it after watching the video online. I have been wishing and waiting for something like this… thank you, Mary Kay!
Irene Mitchell
I bought it too.  Loved the video!
Paula E. Bird